Secret Update #342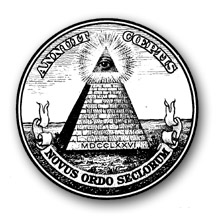 Greetings, fellow travelers. Once again, it is time to update those of who you on the progress we have made in bringing about the age of the Anti-Christ. As you know, due to the extreme sensitivity of our project, these posts are all closed to public viewing (Since this is my first post of this nature, I got instructions on how to limit viewership to dues paying members from NOJO. I believe I have done it right, though the precise HTML code to use it is a little confusing). Please do not share this post with anyone from outside the INNER CIRCLE.
At any rate, welcome Manchucandidate and all members of the Council on Foreign Relations. Welcome Homofascist and all members of the gay conspiracy. Welcome JNOV and your fellow Masons. Blogenfreude and the Secret Society for World Socialism. Welcome Promnight and the members of the Abortion Maximization Committee. And welcome everyone else whose names and affiliations I simply do not have tie to list in this column. Our numbers are growing rapidly as the age of the Anti-Christ approacheth.
The subject of this update concerns the Federal Census, which as you know, is an enumeration of Christians for their eventual slaughter at the hands of the Beast. I would like to report that the Census, which has generally been a resounding success, is becoming something of a headache for us this year. The problem is that ever since that damned Michelle Bachmann warned Christians of our plans, many have been purposefully boycotting the Census. This is a real problem for the movement, as you well know, since it makes it much more difficult to know how large and how many internment camps we must build. I just got off the Phone with our leader Barack Obama and he is steamed about this. After a long discussion during which we both agreed that the Book of Revelations, the prophesies of Nostradamus and the Gospel of Judas all indicate the Final Days are upon us, it was decided that we must redouble our efforts to convince Christians, Patriots and TEA Party members to RETURN THEIR CENSUS FORMS. To that end, I shall ask that each of you contact your group's foremost propagandists and have them submit Op Eds and editorials to your local newspapers arguing that EVERYONE should return their Census data (AKA bear the Mark of the Beast) because it is in their political interest to do so. Here is a good example of one such editorial that even mentions Bachmann by name: LINK. Thank you, Pedonator, for writing that wonderful piece. We will probably fill two whole internment camps with the numbers who responded with their census forms after that piece alone was written.
And that is all for now, fellow travellers. Remember KEEP THIS INFORMATION SECRET. Should any of this fall into the wrong hands, our efforts to enumerate the righteous would suffer a devastating blow.
Add a Comment
Please
log in
to post a comment