New GOP Talking Point: If It's not on Camera, It Didn't Happen.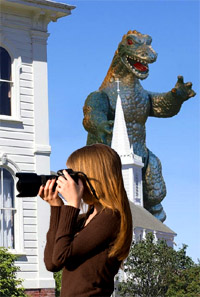 So the what do you do when you're a political party, so bereft of ideas, competence and shame that the only people who still come out to support your efforts at reclaiming political power are a pack of gun crazy, racist John Birch conspiracy crazies? What do you do when you're trying to gain the support of ordinary, middle-of-the-road, citizens even as your most fervent supporters are mobbing the streets of our nation's capital hurling racist insults at African American politicians and spitting on congressmen as they head to the capital?
Well, based on what's beginning to emerge from today's political shows, it would seem that the GOP and its mouthpieces have settled on a simple strategy: deny, deny, deny. If the incident in question was not captured on tape, then simply deny it ever happened.
Here's Red State blogger and CNN contributor Erick Erickson with John King:
ERICKSON: Well you know I think it's very hard to throw the circuit breaker when you have got Democrats making disingenuous arguments, making claims that aren't existing. I mean take, for example, the John Lewis racial epithet that all the video shows didn't happen or the Sarah Palin nonsense that she's putting targets on Democratic districts. That's been going on since I've been in politics for the last decade and a half.
And here is Conservative columnist Cal Thomas making the same argument on Fox News:
MILLER : Democrats were spat upon..

THOMAS: There's no video of that. That is total hearsay. Look, when Nancy Pelosi walked through those Tea Partiers, it was like — what should analogize this to? Ah, the march through Skokie, Illinois, by the Nazis? It was deliberately provocative! They wanted a reaction!
I suspect this marks some sort of a turning point for the GOP. It's one thing to denounce the "bad apples" in who come to your marches and say outrageous things. It's quite another to deny it ever happened. The former is a disingenuous ploy. The latter is is an act of co-conspiratorial complicity.
The only question is whether this strategy will be expanded and how long it can hold out. After all, it depends upon the fantasy that TEA Party protesters will not be caught on tape or film saying outrageously racist crap, and the fiction that racism is not a part of the movement. How long do you think that will last?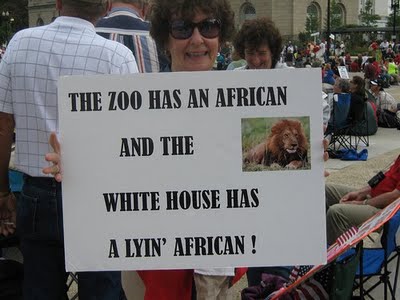 … yeah… probably not too long. But thanks for playing.
Add a Comment
Please
log in
to post a comment