In Case You Thought Otherwise …
It's about violence, real or threatened, and the Kenyan in the White House: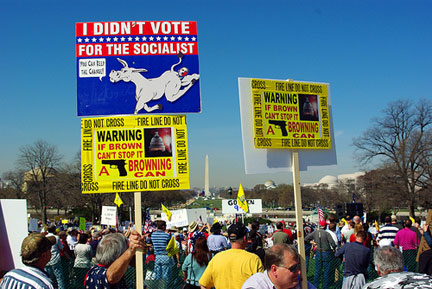 UPDATED BELOW:
But wait, there's more:

A staffer for Rep. James Clyburn (D-S.C.) told reporters that Rep. Emanuel Cleaver (D-M.D.) had been spit on by a protestor. Rep. John Lewis (D-G.A.), a hero of the civil rights movement, was called a 'ni–er.' And Rep. Barney Frank (D-Mass.) was called a "faggot," as protestors shouted at him with deliberately lisp-y screams. Frank, approached in the halls after the president's speech, shrugged off the incident.

But Clyburn was downright incredulous, saying he had not witnessed such treatment since he was leading civil rights protests in South Carolina in the 1960s.

"I heard people saying things that I have not heard since March 15, 1960 when I was marching to try and get off the back of the bus," [said Clyburn.]
These people will do some damage before this thing is done.
Add a Comment
Please
log in
to post a comment