Jesus is More Cool Than You'll Ever Be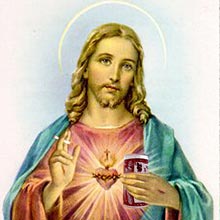 We'll skip the Shillong jokes, mainly because they're better heard than written:
The government in the Indian state of Meghalaya has confiscated textbooks showing pictures of Jesus Christ holding a cigarette and a can of beer.

The book has been used for primary classes and has caused a furore in the north-eastern state, where more than 70% of the population are Christians…

The controversial picture of Jesus was discovered in cursive writing exercise books being used at a private school in the state capital, Shillong.
As it happens, that particular image is not hard to find online, which makes us wonder whether there's an innocent mistake involved — we could easily insult Hindis or Muslims if we weren't paying attention.
On the other hand — dayum. Now there's a dude we could have a conversation with.
Add a Comment
Please
log in
to post a comment