South Carolina Douchebag Overrepresentation Explained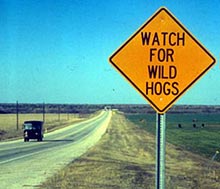 We've often wondered why South Carolina seems to have more douchebags participating in its political class than other states. It's not like douchebags are a rare commodity among politicians — especially among Republicans — yet when you need a go-to douchebag to brighten your day, often as not the Fightin' Palmettos will glow where the sun doesn't shine.
How can this be? Well, after flippant juxtaposition careful research, we have an answer:
Feral pigs.
The Palmetto State is home to the nation's sixth-largest population of wild hogs, many of which are hybrids of domestic pigs released into the wild and Eurasian wild boars released by hunters in the early 1900s.

South Carolina has 90,000 to 280,000 wild hogs, according to Jack Mayer, a feral-swine expert at the Savannah River National Laboratory in Aiken. Mayer said the population estimates are so varied because the pigs often live in dense forests and isolation, making them difficult to count.
Far be it from us to correct the experts, but we suspect there's easy counting in Columbia, near the corner of Gervais and Assembly. Just look for the Stars & Bars.
Add a Comment
Please
log in
to post a comment