Wrist Wars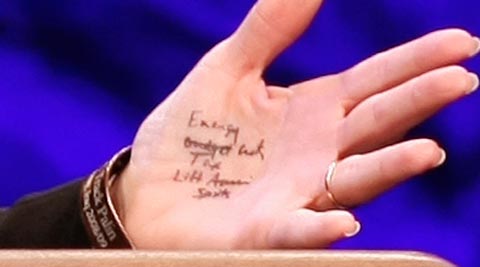 Eric Robinson, a veteran of both Iraq and Afghanistan, notices something that caught our attention Sunday — but unlike us, he sees the significance:
The name on her black memorial bracelet — one, like the gold star, a demonstration of a friend or associate who was killed in action — is that of her oldest son, Track. Track served honorably in Iraq, and both he and his parents should be thanked for his selfless service to his country. He is also alive.

Commemorating Track's service by wearing a a black memorial bracelet which is reserved for those dead or even a red bracelet for those missing in action, demonstrates a horrifying contempt for those who gave their last full measure of devotion or an almost unbelievable ignorance of the importance of symbols in American history.
Horrifying contempt? Unbelievable ignorance? Sarah Palin? Say it ain't so!
Update: Looks like the light caught the bracelet wrong — it's copper.
Add a Comment
Please
log in
to post a comment