Democrats Punt in the Red Zone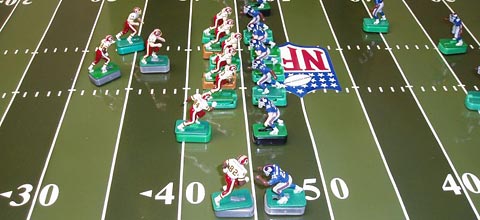 Barack Obama, Tuesday:
"We had to go into overtime. But we are now in the red zone. That's exactly right. We're in the red zone. We've got to punch it through."
Nancy Pelosi, Tuesday:
"We are very close to doing that in a comprehensive way."
Well, then! Let's git 'er done!
What?
Nancy Pelosi, Tuesday:
"Don't even ask us to consider passing the Senate bill until the other legislation has passed both houses so that we're sure that it has happened, and that we know that what we would be voting for would be as effected by a reconciliation bill or whatever parliamentary initiative they have at their disposal."
Ah. Mister President, Madam Speaker, Distinguished Fuckwits: We don't care. The Senate healthcare bill is on the table. It can become law with a single vote.
Which leaves one — and only one — relevant question: Is it better than what exists now?
If it is, pass it. If not, don't.
Is the Senate bill better than the House bill? No. Would the Senate bill be better if a complicated parliamentary maneuver with no certainty of succeeding improved it? By definition, yes.
But if you try a fucking Statue of Liberty play on the fucking one-yard-line on fourth-and-goal with twenty seconds remaining, and fumble the fucking ball, don't expect our sympathy when you blame the halfback for missing a turn.
Because that's where the whole football analogy falls flat:
The opposing team isn't even on the field.
Add a Comment
Please
log in
to post a comment