Illinois in Bleeping Crisis: The Reckoning — LIVE!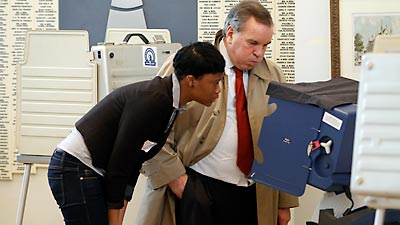 Hey kids!  Illinois voted today!  And guess who has two thumbs and lives in Illinois?  This guy!
Sparse running commentary / Open Thread lies beneath.
1912 (Chicago War Time) — So this morning I voted.  And then I rode my bike (8.5 miles) to work.  Last second thing at said workplace had me there until 1810.  As every Chicagoan knows: dry cleaners close at 7:00 p.m.  Not 7:01 or 7:02, but 7:00 p.m.  Bust my ass to get home, pick up dry cleaning, and write this here post.
I say this for two reasons.  One: I now get to tell my grandkids, "in my day, I biked 8.5 miles to work in the snow.  Both ways."  Two: the rage inside me when I heard when turnout was "extremely low" in Chicago due to — excuse me — a quarter-inch of SNOW??  Christ, the rage was massive.  We have 275 snowfighting trucks and CONTINUING TEAM COVERAGE, and nobody can roll out of bed and vote?  After Blago?  After Stroger?  Bad day to flake out, people.
Downstate turnout, however, was steady.  This could end really badly. 

1923: Chicago Tribune backs up the low-turnout story: its going to be in the "high 20s" per the Chicago Board of Elections.
1926: The possible implications of low turnout?  Well, Todd Stroger — an utterly incompetent, and frankly stupid, Cook County Board President — may have an edge given his electoral machine.  Same with Dorothy Brown, the Cook County Clerk of Court.  Toni Preckwinkle, running on a progressive/reform platform, may be cooked.
1937: While I eat, may I kindly suggest Clout Street — the running blog from the Tribune on the election and other local political stories?
1943: But also: livestream of WGN-TV coverage is here.
1946: Early numbers — neck and neck between David Hoffman and Alexi Giannoulias in the Dem Senate race.  Same with Pat Quinn v Dan Hynes in the Dem Governor race.  Toni Preckwinkle is lapping the field early for the Cook County President's race (the Dem primary is effectively the whole ballgame, naturally).
2000: Crack reporting / reporting on crack: WGN teevee going on about how red is the favorite color of Dorothy Brown (Cook Co. Pres. candidate).
2003: Looks like Mark Kirk takes the Republican nod for the Senate race, against varied right-wing loons.  Styled as a moderate.  Probably, in context of other Republicans, is.  Yet we've seen how moderates like Susan Collins and Olympia Snowe have performed.  My guess is the man is bulletproof in November.  Be worried, people.
2030: Numbers are still at a trickle.  About half in statewide; Chicago's just about all in.
2042: Latest: Dem Senate, both Governors' races are tightening.  Toni Preckwinkle has just about locked down the Cook County presidency — praise Jesus.
2051: Terrence O'Brien (on the Cook County water authority board), now running 2nd to Toni Preckwinkle, just conceded.  And so Toni can start measuring the drapes.
2112: So, the Cook County President race is done and dusted.  Mark Kirk is claiming victory in the Republican Senate race at this moment with a very Scott-Brown-like speech.  Now: Republican GOP Governor's race is a tight four-way race.  Democratic Governor's race is neck-and-neck.  Democratic Senate — Giannoulias has a slight lead, and getting less slight by the moment.
2138: Look at these GOP Governor numbers (80% in):
Brady  111,406 20.1%  
McKenna  110,185 19.9%  
Dillard  108,648 19.6%  
Ryan  92,028 16.6%  
Andrzejewski  81,891 14.8%  
That's not an election.  That's a screwball romantic comedy.  No call in that race tonight.
2144: Dem Senate race is solidifying.  Giannoulias is up four points, with 82% in.  Would take a miracle at this point for Hoffman to pull this off.  And Scott Cohen — in the Dem Lieutenant Governor race — is pulling ahead.  Scott Cohen is a pawn broker.  No.  Really.  A fucking pawn broker.  That just about seals it for November, methinks, for the Republicans.
2147: News from NBC Chicago.  Two Chicago election judges were dismissed during the course of the election for sleeping.  Two more were tossed for being drunk.  One more tossed for racial slurs.  As a former election judge in Wisconsin, I must hang my head in shame.
2150: David Hoffman coming to the mikes now.  Wife (or female staffer — don't know) is weepy.  So Alexi Giannoulias — come on down!  (And have your lawyer on speed-dial.)
2212: Giannoulias accepting nomination now.  Thanks his family.  Careful, now.
2222: It looks like Kirk Dillard is opening up a slight lead in the GOP Governor's race.  He's the one, of course, that cut that ad for Black Eagle.  If there is a ray of sunshine for the Dems, it's the fact that the teabaggers might not take kindly to that and stay home in November.  Intriguing.
2230: Screw it.  Big trip for work tomorrow — gotta hit the sack.  Read your finer newspapers next month to figure out who won the primaries for Governor, after the recounts and challenges. 
Results page from the Chicago Tribune here, if you have a need.  Love y'all.  Later.
2240: Oh, one last thing.  Denny Hastert's kid, who was running for his pop's old seat?  Beaten.  Interesting.  Sort of.  If you really think about it, it looks [ZZZZZZZZZZZZ]
Add a Comment
Please
log in
to post a comment