An Ail for What Cures Ya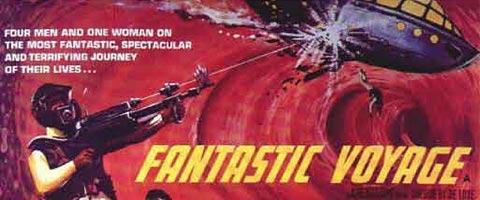 We've heard that the sole purpose of London Sunday newspapers is to scare the shit out of you. But will the effect last until Monday? Let's find out!
Britain is facing a new Al Qaeda terror threat from suicide 'body bombers' with explosives surgically inserted inside them.

Until now, terrorists have attacked airlines, Underground trains and buses by secreting bombs in bags, shoes or underwear to avoid detection.

But an operation by MI5 has uncovered evidence that Al Qaeda is planning a new stage in its terror campaign by inserting 'surgical bombs' inside people for the first time.
Well? Staining your underwear yet?
No? Let's try this angle:
Companies such as Smiths Detection International UK, which is based in Watford, Hertfordshire, manufacture a range of luggage and body scanners designed to identify chemicals, explosives and drugs at airports and other passenger terminals around the world.

These include high-specification X-ray equipment that could identify body bombs.
Ah. If you're not frightened by the threat, surely you're frightened by the opportunism promoting the threat. Because we know where that leads.
Add a Comment
Please
log in
to post a comment