Premature Ejection Syndrome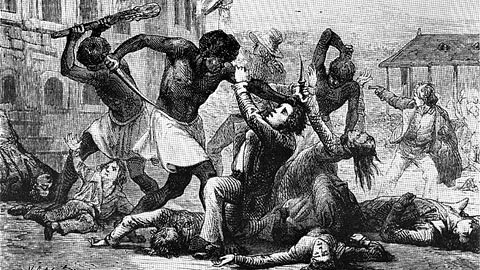 Whatever the Haitians did in 1804, it sure has conservatives pissed. Today's entrant in the pro-slavery derby is Mark Krikorian, director of something called the "Center for Immigration Studies," which appears to study ways to stop immigration:
My guess is that Haiti's so screwed up because it wasn't colonized long enough… But, unlike Jamaicans and Bajans and Guadeloupeans, et al., after experiencing the worst of tropical colonial slavery, the Haitians didn't stick around long enough to benefit from it… And by benefit I mean develop a local culture significantly shaped by the more-advanced civilization of the colonizers.
Hmmm. Let's check the Library of Congress on that:
Haiti, the first black republic in modern times, sprang directly to self-governance from French colonialism, a system that had a profound impact on the nation. Haiti's colonial origins had demonstrated that an illiterate and impoverished majority could be ruled by a repressive elite. The slaveholding system had established the efficacy of violence and coercion in controlling others, and the racial prejudice inherent in the colonial system survived under the black republic. A lightskinned elite assumed a disproportionate share of political and economic power.
So, if only the Haitians had put up with a few more generations of that enlightened French rule, things would have turned out a lot better. Got it.
Add a Comment
Please
log in
to post a comment