The Democratic Health Care Plan: Die Quickly.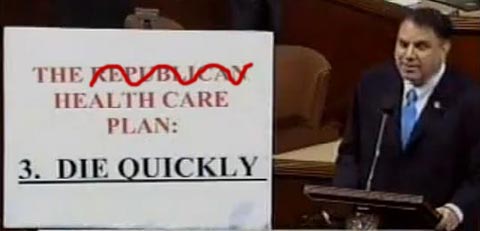 Nancy Pelosi this morning, showing that inspiring leadership we've come to expect from the majority party:
"I don't see the votes for it at this time," Pelosi said. "The members have been very clear in our caucus about the fact that they didn't like it before it had the Nebraska provision and some of the other provisions that are unpalatable to them."

"In every meeting that we have had, there would be nothing to give me any thought that that bill could pass right now the way that it is," she said. "There isn't a market right now for proceeding with the full bill unless some big changes are made."
Hey, we're no fans of the Senate bill — we're not that excited about the House bill, for that matter. But it comes down to this: Is the Senate bill better than the status quo? If so, pass it, and fix it later. If not, say as much and start over.
Because unless we're missing something, those are your only two options. Anything else requires a faith in unicorns that we lost somewhere.
Add a Comment
Please
log in
to post a comment