Whipped Orly & Other Delights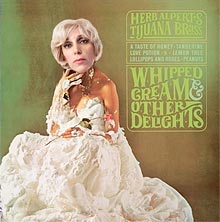 Our guest columnist this morning is Charles Lincoln, former legal assistant to Orly Taitz. Not only did he help Orly with her filings, it appears he helped her with her drawers.
I do not think for two nano-seconds that what has happened between Orly and me is merely a "falling out."…
Honest and righteous people can, from time-to-time, fall in love across "normative" boundaries of marriage and family. It was my belief that Orly and I were such people and I begged her to "come clean" and openly admit what had happened. My feelings for her were always entirely honorable. My intentions were always honorable. I was committed to her. She said she was committed to me.
Perhaps we should have ended up like (ironically) that famed French Socialist President Mitterand, mourned at his funeral by his wife and mistress crying on each other's shoulders. I don't know. I would have rather Orly left her husband because it would have been a clean break, and it would have accurately reflected how much we had in common and how much work we had to do on the mortgage front as well as the political front — fighting socialism's highest ranking symbol (the President)…
Orly has proven herself no devotee of the truth, or justice or of righteousness, nor of any kind of honor. My love for her was totally honorable, as was my commitment to her cause. I would have confronted her husband and told him to set her free had she ever allowed me to do so. I would have challenged anyone in the world to question my devotion to her…
Because I fell in love with her, I followed her orders blindly, and now see that she simply used me as generating machine to produce semi-coherent texts. She never wanted thought or analysis (certainly she did not want to participate in any). Furthermore, in addition to our romantic involvement, Orly offered to represent me in my nationwide crusade for sound financial practices and a restoration of private property…
And so we became more and more deeply involved. By mid-October, when we were in New York together and Lucas Smith published his "declaration", I had wrapped my life around Orly's and I guess I honestly believed she had wrapped hers around mine and she said over and over again how much she was committed to me and how she never wanted us to separate. Three weeks later she had abandoned me, and yet some people have the nerve to call ME mentally unstable! I am honest about where I come from. Orly is not. Orly used her words and promises to induce me as long as she wanted and then she dumped me with no regard to her promises whatsoever…
But despite her rashness and impetuousity and lack of caution or care, Orly and now her supporters blame ME for the explosion of all this. I suspect it would have been a mild and trivial sideline if Orly had merely, appropriately and honestly, separated from her husband during this time period, but she chose to try officially to keep the lid on something she lacked the care to keep secret in reality. We wandered around every city in the country together — I very proud to be with this wonderful, passionate, and yes quite beautiful woman.
Orly's lack of judgment in the handling of our relationship exactly paralleled her lack of judgment in handling the constitutional eligibility litigation. She needed me and probably still needs me in every possible way, but I don't have her husband's money and so she chose to DUMP me, to DUMP real love, for the illusion of piles of federal reserve notes and other credits, and she goes on with her reckless rage and fire…
A woman who makes and disregards her personal commitments as lightly and honestly as Orly Taitz can hardly be trusted to lead a national movement. Anyone who betrays her professional duty to think to impress her followers, betrays quite possibly the best friend she ever had for the purpose of impressing her followers, and who will betray the essence of words like "love" and "forever", cannot lead a movement dedicated to honor and integrity in government. I am sorry, but the personal is a microcosm of the public, and while I think we all know that human emotions are fickle, the way we handle them is reflective of our character. So Judge for yourself: if I had had my choice, Orly and I would have admitted our affair and she would have separated from her husband.
Orly's choice is, once the cat was out of the bag—"I hate cats, I am allergic to cats, he was just a stray and mangy cat, I am a dog person not a cat person, that wasn't even my bag, how did that cat get in my bag."
Orly Taitz Ally Breaks Away, Says He Fell in Love With Her [Washington Independent]
Add a Comment
Please
log in
to post a comment