Mrs. Rove Joins the Republican Ex-Wives Club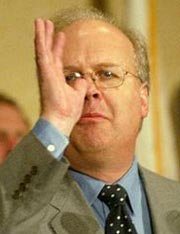 Karl Rove can't even keep his personal permanent majority together — he's been granted a divorce from his 24-year marriage in "no-fault" Texas.
"Karl Rove and his wife, Darby, were granted a divorce last week," said ["family spokeswoman" Dana] Perino. "The couple came to the decision mutually and amicably, and they maintain a close relationship and a strong friendship. There will be no further comment, and the family requests that its privacy be respected."
Why yes, Karl's a Defender of Marriage. Why do you ask?
Rove: Champion of "traditional" divorce [Greenwald]
Add a Comment
Please
log in
to post a comment