Welcome to the 2009 Stinque Awards!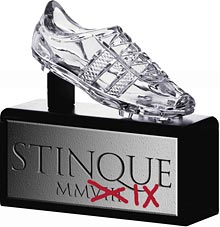 Fuck Neil Patrick Harris. Just fuck him. He promised he'd have this great song-and-dance number to open our show, and he's nowhere to be found. Did he get the fucking memo? Does he know we're starting at seven in the morning, and not seven at night? Does he know the Today producers just told us to fuck the satellite feed if we can't get Harris on camera stat?
Shit. You — yes, you, hauling that crate of awards. Do you tap? No? Fuck.
Well, um — oh, hi! Welcome to The 2009 Stinque Awards for Achievement in Infamy! We have a great show planned for you today, just as soon as — well, just as soon as you imagine it! Yes, we're reviving the glory days of radio, so close your eyes, click your heels, and let's get started!
First, as always, we bury the Technical Awards for Nice People as deep as we can, since they're no fun at all:
John Baldacci for signing the Maine gay-marriage law.
Patrick Kennedy for showing that not all late-generation Kennedys are a bunch of idiots.
Howard Dean for fighting the good healthcare fight, even when we'd prefer he shut his trap.
Al Franken for his anti-rape amendment.
Nicholas Kristof for relentlessly pointing out human-rights abuses around the world.
Rachel Maddow for yet again being Rachel Maddow.
Next hour: Le Prix Trudeau for Best Un-American Politician
Add a Comment
Please
log in
to post a comment