Poof!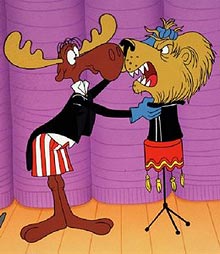 Sometime over the summer, it was suggested that the Democrats should aim for decent health-insurance reform, since the Public Option (itself a pre-compromise of Single Payer or Medicare for All) was likely to get twisted out of recognition, if not existence.
Tuesday night's developments — regarding the Gang of Ten senators, selected by Harry Reid to conjure a 60-vote solution to the healthcare bill, which is on the Senate floor and still needs to survive a filibuster to reach an actual vote, after which it will go to a conference committee to iron out differences with the House bill, and then…
THUMP.
Er, sorry. Could somebody help carry that reader out of the room? Thank you.
Anyway, if TPM's reporting of the confidential deal is to be trusted, here's the grab-bag of proposals being sent today to the Congressional Budget Office for evaluation:
The opt out public option is gone.
Don't act surprised.
The group agreed — contingent upon CBO analysis — to a Medicare buy in.
This is the plan that would lower the Medicare age to 55 — which, over the years, has been part of another occasional proposal to phase in Medicare for the entire population.
But note the "buy in". It would be available in 2011 — without subsidy. It would be "quite expensive." If you can hold off getting sick (or old) until 2014, the government will help you pay for it.
One of the trade-offs will be to extend a version of the Federal Employees Health Benefits Plan to consumers in the exchanges. Insurance companies will have the option of creating nationally-based non-profit insurance plans that would—
THUMP.
Shit. Look, you have to remain conscious to qualify for the drawing at the end of this post. If we call out your name and hear nothing, we're keeping the robotic hamster. And telling your kids.
So, bottom line: Nothing happens for five years. Presuming we all haven't been shipped to Afghanistan by then, in 2014 the "insurance exchange" will open, featuring subsidies for modified Medicare, the federal-employee insurance program, and "non-profit" plans offered by our favorite Robber Barons. There may be a "public option" if the Robber Barons don't pretend to play along.
Thank you for your rapt attention. The winning ticket is—
Hello? Hello? Where'd everybody go?
Add a Comment
Please
log in
to post a comment