Welcome to America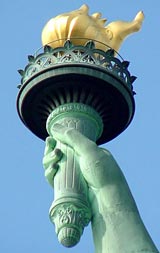 That only took — what — four days?
A Marine reservist armed with a tire iron beat and chased a man he thought was an Arab terrorist and even called 911 to say he was detaining the man, police said.

But the man he assaulted was actually a Greek Orthodox priest visiting from overseas who spoke limited English, police said.
It's even worse than it sounds. The priest became lost in Tampa while driving to bless another priest Monday afternoon. He finally gave up, pulled into an apartment parking lot, and asked the reservist for help.
"Instead of offering help, Bruce struck the priest on the head with a tire iron," reports the local rag.
Hey, can't be too careful. Did we say "the swarthier the better" in this week's poll? We wish we were joking.
Update: Meet the assailant!
Add a Comment
Please
log in
to post a comment