What Not to Tweet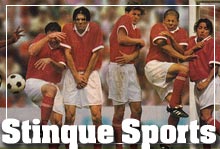 We don't know who Larry Johnson is, but apparently he's about to break the all-time rushing record for the Kansas City Chiefs. That is, if he doesn't shoot off his mouth first:
We told you about Johnson's comments Sunday night, when he took shots at his coach Todd Haley. Johnson compared his father's football career playing for a legendary youth coach and then briefly playing in the NFL to Haley, who played golf and then "nuthn."

Not content to rest after that, Johnson then responded to a Twitter follower that reminded Johnson of the incident last year in which Johnson allegedly spit a drink into a woman's face. L.J. used a three-letter homophobic epithet to get his point across in response.

According to Yahoo! (and some of our commenters), Johnson wrote, "think bout a clever diss then that wit ur [expletive] pic. Christopher street boy. Is what us east coast cats call u."
The slam added ammunition to a 31,000-signature fan petition demanding that the apparently unpopular Johnson be benched before he breaks the team record. Johnson quickly took his Twitter feed private, but not before getting in a final dig at critics: "Still richer than u."
Which reminds of a line we'd like to say our father taught us, except for the fact we just made it up: All the money in the world, and he still can't buy a clue.
Add a Comment
Please
log in
to post a comment