We're Also Jealous of Ferris Bueller, James Bond, Indiana Jones, and Mr. Incredible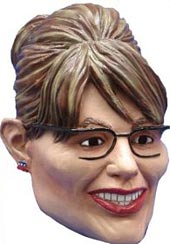 We're just looking for an excuse to run the Sarah Palin Halloween mask again, but what the heck — the author of yet another book on the increasingly crowded Talibunny shelf says feminists are jealous that she temped her way to glory:
It was telling that Fey should be the actress who impersonated Palin. The two women may look like each other, but they could not be more dissimilar. Each exemplifies a different category of feminism. Palin comes from the I-can-do-it-all school. She is professionally successful, has been married for more than 20 years, and has a large and (from all outward appearances) happy family. And while Fey is also pretty, married, and has a daughter, the characters she portrays in films like Mean Girls and Baby Mama, and in television shows like 30 Rock, are hard-pressed eggheads who give up personal fulfillment — e.g., marriage and motherhood — in the pursuit of professional success.
Note the comparison: Not to Tina Fey herself, but to the fictional characters she plays. Last time that happened, Murphy Brown built an entire episode around it.
Add a Comment
Please
log in
to post a comment