Tits & Armageddon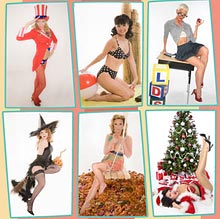 From the folks who brought you the Mormon stud calendar (now in its third edition), comes Hot Mormon Muffins:
The women featured in the calendar range in age from 26 to 53. Some have as many as four children. Several are stay-at-home moms, while others are students, real estate agents, cosmetologists and dance instructors. One is a former Miss Utah and another is a breast cancer survivor, according to biographies on the calendar Web site.
There's also a series of cheesecake videos on their website, including tips on how to "Prepare Your Muffins for Latter-day Disasters" and "Resurrect Your Muffins". We'd post one here, but the timing is, shall we say, a little flat.
Add a Comment
Please
log in
to post a comment