In Re Bong Water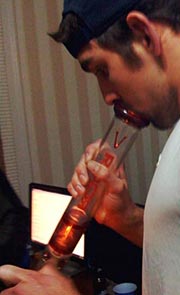 State of Minnesota v. Sara Ruth Peck, opinion of the Minnesota Supreme Court, October 22 (abridged). The phrase "bong water" appears 64 times in 27 pages.
ANDERSON, G. Barry, Justice.
In this appeal we consider whether the term "mixture" applies to bong water that tests positive for the presence of a controlled substance…
Peck moved to dismiss the first-degree controlled-substance charge for lack of probable cause, arguing that as a matter of law the 37.17 grams of bong water did not constitute a "mixture" under Minn. Stat. § 152.01, subd. 9a (2008)…
On September 4, 2007, the crime lab issued a report indicating that the jar contained a "pink liquid exhibiting a fruity odor," and that the liquid weighed 37.17 grams and tested positive for the presence of methamphetamine…
[Minnesota State Patrol Trooper Douglas] Rauenhorst also testified about the common usage of a bong. He explained that a bong is often used to smoke controlled substances. Rauenhorst testified that while a person can use a bong without water, it is normally used with water. Rauenhorst explained that the water "is used in sucking the smoke from the end of the ball of the [bong] through the water up to the consumer." Rauenhorst agreed that "[w]hen a person is smoking with a bong pipe, they don't ordinarily inhale the water . . . [o]r ingest the water."
Rauenhorst further testified that the pink coloring and fruity odor of the liquid discovered in Peck's bong was significant. He explained that bong water is not normally colored or scented. When asked why a narcotics user would keep bong water, Rauenhorst replied, "for future use . . . either drinking it or shooting it in the veins." Rauenhorst further testified that he had actual knowledge of narcotics users consuming water with methamphetamine. On cross-examination, Rauenhorst was unsure whether bong users might flavor the water in order to flavor the smoke…
Based on the standard usage of a bong and the fact that Peck had not removed the water from the bong, the [district] court concluded that Peck "intended [the bong water] to be a part of the bong, or drug paraphernalia." Based on its determination that the bong water was better classified as "material of any kind" under the drug paraphernalia definition provided in Minn. Stat. § 152.01, subd. 18 (2008), the court dismissed the first-degree possession charge. The court also concluded that allowing the weight of the water to be used to enhance the possession crime to a first-degree possession charge was "unjust."…
We conclude that when applied to the water containing methamphetamine stored in the bong, the phrase "preparation, compound, mixture, or substance" is clear and free from all ambiguity. Bong water is plainly a "substance" because it is material of a particular kind or constitution. The bong water is a "mixture" because it is a "substance containing a controlled substance" — methamphetamine.
ANDERSON, Paul H., Justice (dissenting).
There is limited evidence in the record as to how a bong operates, but information on the use of a bong is helpful in understanding the essence of this case…
Minnesota v. Peck [Minnesota Supreme Court, PDF]
Add a Comment
Please
log in
to post a comment