Zoom Zoom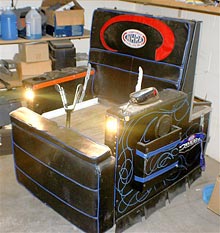 We know we risk caning for again broaching the subject of American Public Inebriation, but when a dude pleads guilty to DWI on a motorized La-Z-Boy, well…
According to the criminal complaint, Anderson drove his motorized chair into a vehicle parked near a Proctor bar. Anderson told police he was traveling from the Keyboard Lounge after consuming approximately eight or nine beers…

Anderson claimed he was driving the chair fine until a woman jumped on it and knocked the chair off course.
Oh, shit — woman driver. Now we're in big trouble.
But before we head to the corner for our scream-out, here are the vitals: the Laz-Z-Buggy runs atop "a converted lawnmower with a Briggs & Stratton engine," for the gearheads among us. It boasts "a stereo, cup holders and other custom options, including different power levels."
And it could be yours — the police have confiscated it for auction.
Add a Comment
Please
log in
to post a comment