Everybody's an Oather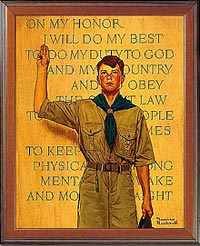 Good golly, this is picking up steam. State Rep. Daryl Metcalfe (R-Troglodyte) is pissed about veterans touring Pennsylvania to spread inconvenient truths:
"As a veteran, I believe that any veteran lending their name, to promote the leftist propaganda of global warming and climate change, in an effort to control more of the wealth created in our economy, through cap and tax type policies, all in the name of national security, is a traitor to the oath he or she took to defend the Constitution of our great nation!" Mr. Metcalfe's email reads. "Remember Benedict Arnold before giving credibility to a veteran who uses their service as a means to promote a leftist agenda. Drill Baby Drill!!!"
We might remind the exclamation-hoarding Mr. Metcalfe that George W. Bush took a similar oath — twice — yet it's only lefties who seem to care about calling him on it, and even the Socialist-in-Chief is content to let sleeping tyrants lie.
Add a Comment
Please
log in
to post a comment