Dude, chill…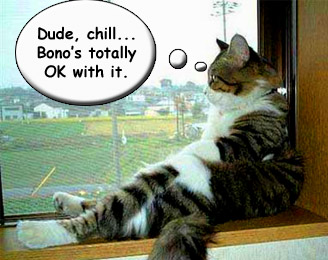 Bono's totally OK with Obama getting the Nobel Peace Prize:
"We will support the Millennium Development Goals, and approach next year's summit with a global plan to make them a reality. And we will set our sights on the eradication of extreme poverty in our time."

They're not my words, they're your president's. If they're not familiar, it's because they didn't make many headlines. But for me, these 36 words are why I believe Mr. Obama could well be a force for peace and prosperity — if the words signal action.
So chill, everybody. It's cool.
(p.s. don't delay your planned post on account of this, NOJO.)
Add a Comment
Please
log in
to post a comment