Oklahoma Celebrates Classic American Literature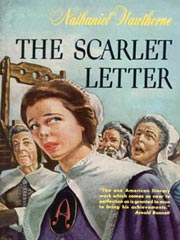 A new Oklahoma law will require gathering statistics on every abortion performed in the state — and posting the details online:
1. Date of abortion
2. County in which abortion performed
3. Age of mother
4. Marital status of mother (married, divorced, separated, widowed, or never married)
5. Race of mother
6. Years of education of mother
(specify highest year completed)
7. State or foreign country of residence of mother
8. Total number of previous pregnancies of the mother
Live Births
Miscarriages
Induced Abortions
While the law doesn't ask for name or address, you could pretty much open a bank account with the information given — especially in a small-town state, where any three of the questions would peg your neighbor.
Implementing the law (which is being challenged by the Center for Reproductive Rights) would cost Oklahoma taxpayers more than $250,000 a year. Apparently legislators overlooked a more efficient method, consisting of distributing cases of scarlet spray paint to county sheriffs.
Add a Comment
Please
log in
to post a comment