The Fightin' Backbencher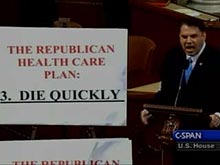 While Alan Grayson become America's Hero overnight for his slam against the Republican health care plan, which we'll paraphrase as "Live fast, die young, and leave a good-looking corpse," he's no stranger to punching back:
Shortly after his election, the 51-year-old responded to radio host Rush Limbaugh's remark that he hoped President Obama would fail by calling Limbaugh a "has-been hypocrite loser," adding for good measure that "Limbaugh actually was more lucid when he was a drug addict." Mocking Republicans who apologized after criticizing Limbaugh, Grayson issued an "apology" of his own: "I'm sorry that Limbaugh is one sorry excuse for a human being."
And he's using his newfound popularity to raise some quick cash:
Congressman Grayson's re-election campaign wishes to thank all of the Republican hypocrites who attacked Grayson for summarizing the Republican's health care plan as follows: "Don't get sick. And if you do get sick, die quickly." As soon as the Republican hissy fits began, contributions began to pour in to Grayson's campaign. Thousands of new contributors joined Alan's Army overnight.

Rep. Tom Price (R-GA) demanded an apology. The Grayson re-election campaign would like to usher in a new era of bipartisanship by inviting Rep. Price to serve as the campaign's Finance Director. The campaign would also like to invite the chairman of the National Republican Congressional Committee, Pete Sessions (R-TX), to serve as Chairman of the Campaign's Fundraising Committee.

Keep up the good work, gentlemen! The Grayson campaign thanks you for your support.
But before you get too excited, one caveat: His kids are named Skye, Star, Sage, Storm and Stone.
Add a Comment
Please
log in
to post a comment