Caesar's Palaces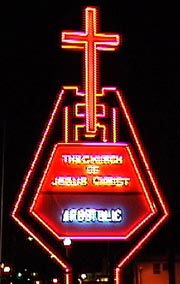 Our nation's preachers are fed up with our nation's gag orders:
"Pastors have a right to speak about biblical truths from the pulpit without fear of punishment. No one should be able to use the government to intimidate pastors into giving up their constitutional rights."
That would be Erik Stanley of something called the Alliance Defense Fund, which sponsored Pulpit Freedom Sunday yesterday. And who could disagree with him? No reason preachers shouldn't enjoy the same free-speech rights as the rest of us.
For that matter, no reason preachers shouldn't also enjoy the same taxation rights. You give up your tax exemptions and render unto Caesar, and we'll fully support your judgment about how best to render unto God.
And there's the rub. They want it both ways.
At issue is the "Johnson Amendment", added to the tax code by LBJ in 1954 — which may have had more to do with local opposition to his reelection than high principle. But whatever Johnson's motives, the principle has seemed reasonable: You can have your nonprofit status — just keep your nose out of elections.
Unsurprisingly, the meddling preachers on the dole don't see it that way:
Stanley explained that, contrary to the misunderstandings of many, tax-exempt status is not a "gift" or "subsidy" from the government.
Count among the misinformed the Supreme Court, which ruled that "Congress has not violated [an organization's] First Amendment rights by declining to subsidize its First Amendment activities." Count as well IRS Commissioner Mark Everson, who explained that in 2006. "We can't afford to have our charitable and religious institutions undermined by politics," he said.
And Everson was a Bush appointee.
But perhaps we're looking at this the wrong way. Perhaps we should grab ourselves a mail-order ministry, convert this operation into the Stinque Church of What's Happening Now, and start collecting.
Add a Comment
Please
log in
to post a comment