PleasePleasePleasePlease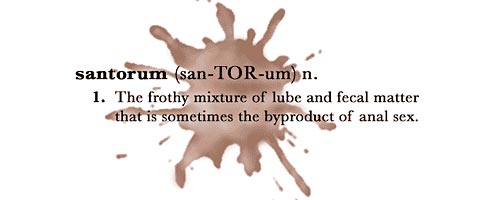 Don't tell anyone, but we have this great reality show we'll be pitching next year: Who Wants to Be a President? Set to debut in 2011, it consists of all our favorite Republicans, debating each other every week to see who can produce the smelliest dungheap. The winner gets a flaming bag of his or her own shit delivered to the doorstep in November 2012 — and a lucky viewer gets to ring the doorbell!
We've been secretly signing up potential participants, and we're proud to announce that Rick Santorum (R-Frothy Fecal Matter) has joined our cause:
"A lot of people are going to take a look and see wht they can do to try to confront this presidency, which many of us — as you're seeing from the tea parties and the like — which many of us believe is injurious to America," Santorum said, saying the 2012 race is "something that I think I would consider."
It's going to be a marvelous show, although we haven't yet settled on a host. Is Kristol available?
Add a Comment
Please
log in
to post a comment