Smug Not, Lest Ye Be Smugged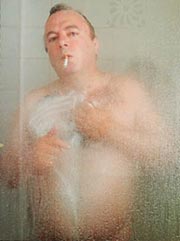 In the new Atlantic, Christopher Hitchens is tired of all the adoration received by America's Favorite Fake Newscaster:
Immediately following the death of Walter Cronkite, Time magazine took an online poll to determine who was now "America's most trusted newscaster." Seven percent of those responding named Katie Couric. Nineteen percent nominated Charles Gibson. Twenty-nine percent went for Brian Williams. But the clear winner, garnering 44 percent, was Jon Stewart of The Daily Show. Either I missed it, or the poll failed to specify, in that wonderfully reassuring way that polls purport to do, what had been its "margin of error."
Or it was, y'know, an online poll, which is 100% Accurate of visitors clicking buttons. Which is the first indication that Hitch is phoning this one in from the club.
Most of Hitch's cocktail-napkin opus is actually devoted to bashing Al Franken, despite Stewart being pitched on the magazine's cover and in the lede. But when he eventually gets around to Jon, he doesn't take the trouble to watch the show. Instead, he grabs a copy of Stewart's Naked Pictures of Famous People — written while Craig Kilborn was still hosting the Daily Show — and uses that to render judgment upon everything Stewart has done in the ten years hence.
"If you chance to like this sort of thing, then this is undoubtedly the sort of thing you will like," says Hitch. Since we don't chance to like half-assed space-fillers, we're inclined to agree.
Add a Comment
Please
log in
to post a comment