Whip It Good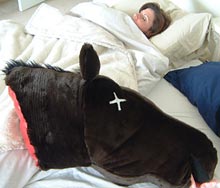 Our Oz correspondent recommends the following two stories, with the proviso that you don't confuse them.
In the first story, Australian jockeys are upset over new rules that limit the amount of pain and suffering encouragement they can provide their dogmeat noble steeds down the stretch. Jockey union spokesmidget Paul Innes explains:
"To burden them now with counting how many times they have used their whip, have they got another whip, have they used their whip, is unsafe and [there are] dangers to flow from that," he said.
Even worse is the introduction of a padded whip, which isn't nearly as fun.
Which brings us to the second story:
A British researcher is suggesting that couples should sleep in separate beds to avoid snoring, kicking and duvet-hogging partners.
We've given this careful thought, and instead of attempting the suggested "two wetsuits and a dildo" comparison, we prefer to illustrate the connection between these stories with this lovely throw pillow.
Bed-sharing can ruin your health and your marriage [AussieBC, both via CheapBoy]
Add a Comment
Please
log in
to post a comment