Just Kidding!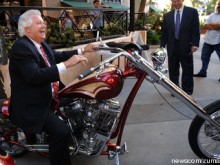 This is rich:
Mike Duvall now seems to be denying having affairs with the two women he was caught bragging about sleeping with.
His statement:
Assemblyman Duvall Denies Reports that He Had Affair

I want to make it clear that my decision to resign is in no way an admission that I had an affair or affairs. My offense was engaging in inappropriate story-telling and I regret my language and choice of words. The resulting media coverage was proving to be an unneeded distraction to my colleagues and I resigned in the hope that my decision would allow them to return to the business of the state.
He throws in details on her underwear, her age, and her birthday and expects to be taken seriously?  Seriously?
What a tool.
Add a Comment
Please
log in
to post a comment