Don't Worry: Fox News is on the Case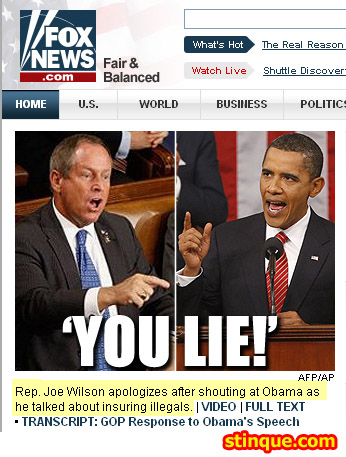 The not-at-all-misleading caption reads: "Joe Wilson apologizes after shouting at Obama as he talked about insuring illegals." Not that it makes any difference, of course, but Barack Obama's exact words were:
"There are also those who claim that our reform efforts would insure illegal immigrants… this too is false."
Now, maybe I'm just a little dense here, but would it not have been more accurate to say that Obama was talking about not insuring illegals? It's a fine distinction, to be sure, that which holds between doing something and not doing something. Consider, for instance, the practically trivial difference between "No, I have not been drinking" and "Why yes, officer, as a matter of fact, I have been drinking… heavily" or "there are not dead hookers buried in his back yard" and "there are dead hookers buried in his back yard." But then again, maybe I'm just reading too much into it. After all, it's not like Fox News is known for pushing misleading GOP propaganda as news, or anything.
Add a Comment
Please
log in
to post a comment