Douchebag of the Day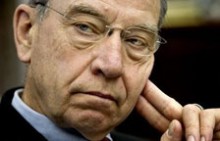 This is getting tiresome:
Well, there is another political leader, higher up in the hierarchy that used that than I did…And then the Washington Post, or some newspaper later on said something about Sarah Palin. Well, Sarah Palin said that presumably before I said it, about the death boards…But if you figure, if you connect several dots, you got, the concern about saving money in this health care bill, you've got the concern about a public option leading to a government run health care plan, and then you got the Veterans Administration putting out a book saying that all of the doctors have to deal with end of life issues for everyone that is in that system, and then you've got all of that put together. And quite frankly, between government running everything and paying a doctor to give that advice, everybody figures that the government is going to be in the middle of end of life issues just like they are in England, as an example.
https://www.youtube.com/watch?v=uroXhgLGdR0
Lying, or deeply stupid?
I am so sick of these people.
Add a Comment
Please
log in
to post a comment