Douchebag of the Day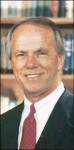 Clarksville, TN Mayor Johnny Piper:
Johnny Piper, the mayor of Clarksville, TN, recently forwarded an anti-Muslim email urging all "patriotic Americans" to protest a U.S. Postal Service stamp that commemorates an Islamic holiday. Piper's email falsely claims that the creation of the Eid stamp was ordered by President Obama. In fact, the stamp was first issued in 2001, during the Bush administration. It was reissued in 2002, 2006, 2007 and 2008.
And yes, he's a Republican.
Add a Comment
Please
log in
to post a comment