Douchebag of the Day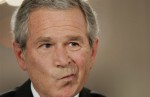 Another hiring reminiscent of that of Michael Brown:
Over lunch this week in Dallas, Bush offered former White House official James K. Glassman the opportunity to run [his presidential library] think tank that the former president has described as a place to foster debate on democracy, education and other global concerns.

Glassman, who was an undersecretary of state in 2008, is a longtime fixture in Washington. He was a fellow at the American Enterprise Institute for 12 years and held top executive positions at the Atlantic Monthly, U.S. News & World Report and the New Republic.
Glassman also wrote Dow 36000. Wonder how that worked out?
Add a Comment
Please
log in
to post a comment