Better Dread Than Red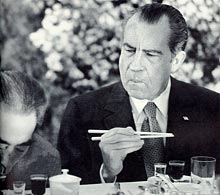 It's all coming into focus now. When Socialist-for-Life Barack Obama indoctrinates America's schoolchildren on Tuesday, he'll hold up a giant Queen of Diamonds and set off the national tyranny everyone's been warning about:
According to the Global Times English-language edition, the national flag of the communist People's Republic of China on Sept. 20 will be raised for the first time on the White House's south lawn — a secured area seldom available for public events — in recognition of the Chinese anniversary.
Or, if you prefer your hysteria in screaming email style:
WHITE HOUSE TO FLY RED CHINESE FLAG!!!1!
The plan, reported by several English-language Chinese media outlets, has raised concern among those who are working to guard the United States from outside influences that could be threats.
We thought they were busy right now guarding us from Australia, Austria, Belgium, Canada, Finland, Denmark, France, Germany, Japan, The Netherlands, New Zealand, Norway, Spain, Sweden, and the United Kingdom, but that's another story.
Why it took China so long to take possession of its largest debtor is unclear. Experts guess we're not buying our mandated quota of sneakers, electronics, and lead-enhanced toothpaste, or perhaps rather than establish a new world reserve currency, our Capitalist Commie Overlords prefer to just squat on the existing one. Suspicions have also been aroused that Beijing is making a pre-emptive bid for the Super Bowl halftime show.
Plans to fly the Confederate flag at the Veterans Day parade in Homestead, Florida, remain unchanged.
Add a Comment
Please
log in
to post a comment