The First Finger is Fired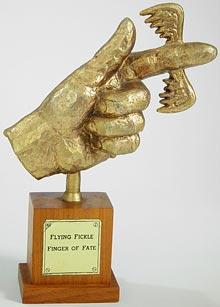 With all those firearms at town halls, we have to admit an indecent pleasure that the latest report of violence is very old school:
A 65-year-old man had his finger bitten off Wednesday evening at a health care rally in Thousand Oaks, according to the Ventura County Sheriff's Department…

A witness from the scene says a man was walking through the anti-reform group to get to the pro-reform side when he got into an altercation with the 65-year-old, who opposes health care reform.

The 65-year-old was apparently aggressive and hit the other man, who then retaliated by biting off his attacker's pinky, according to Karoli from DrumsnWhistles, who attended the rally.
But all's well that ends well: Doctors reattached the pinky.* The anti-reformer had Medicare.
Update: Oops, he lost half a pinky after all. We're undecided whether that remains good news.
Add a Comment
Please
log in
to post a comment