Douchebag of the Day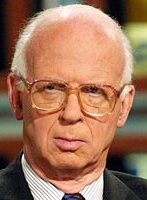 David S. Broder:
Nonetheless, I think it is a matter of regret that Holder asked prosecutor John H. Durham to review the cases of the agents accused of abusive tactics toward some captives.

I realize this is a preliminary investigation, not a decision to prosecute anyone. And if it were to stop at that point, no great harm would have been done. But it is the first step on a legal trail that could lead to trials — and that is what gives me pause.
The Villagers … they never disappoint.
Cheney is not wrong when he asserts that it is a dangerous precedent when a change in power in Washington leads a successor government not just to change the policies of its predecessors but to invoke the criminal justice system against them.
It's a "dangerous precedent" to prosecute those who commit crimes? Quick – someone tell the DC Madam because … oh.
Leon Panetta, the conscientious director of the Central Intelligence Agency who, earlier in his government career, resigned to protest the policies of the Nixon administration in which he was serving, has disagreed with Holder's decision. He says it will have a harmful effect on the morale and operations of his agency, which has already taken strong steps to correct the policies he inherited.
If you prosecute the people who instituted and carried out Bush's torture program, the CIA will have a sad.
Looming beyond the publicized cases of these relatively low-level operatives is the fundamental accountability question: What about those who approved of their actions? If accountability is the standard, then it should apply to the policymakers and not just to the underlings. Ultimately, do we want to see Cheney, who backed these actions and still does, standing in the dock?
Yes. We do.
Add a Comment
Please
log in
to post a comment