Douchebag of the Day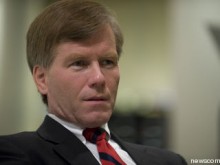 Virginia gubernatorial candidate Bob McDonnell:
In McDonnell's thesis at Regent — the school founded by Pat Robertson — the then-34-year old grad student laid out how his fundamental concern was the decline of the traditional family unit, and how government policies must be designed to counteract the nefarious influences that have contributed to it. As examples, McDonnell cited women joining the workforce, abortion and contraception (he even pined for the old days when non-marital sex was by itself a crime), and what he called a socialist effort to have the state replace the family unit.
TPM has some interesting details from the thesis here.
Add a Comment
Please
log in
to post a comment