Douchebag of the Day
Mommy 1.0 collects a bunch of Twitter douchbags, and I pick the worst one: Erick Erickson.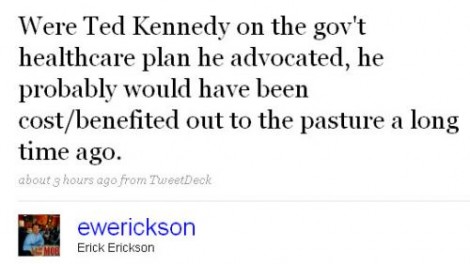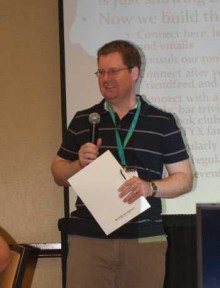 Erick, in case you didn't know, founded the website RedState.  Among other things, he twitted (tweetered?) the following when David Souter retired:
Eric Erickson [sic]: The nation loses the only goat f*&king child molester to ever serve on the Supreme Court in David Souter's retirement.
Angry wingnut!  But wait, there's more:
At what point do the people tell the politicians to go to hell? At what point do they get off the couch, march down to their state legislator's house, pull him outside, and beat him to a bloody pulp for being an idiot?

At some point soon, it will happen. It'll be over an innocuous issue. But the rage is building. It's not a partisan issue. […]Were I in Washington State, I'd be cleaning my gun right about now waiting to protect my property from the coming riots or the government apparatchiks coming to enforce nonsensical legislation.
Erick's likely too much of a wuss to actually do anything, but he sure cheers on his rabid readers.  Sort of a dumber Glenn Beck.
Add a Comment
Please
log in
to post a comment