Boy Genius Nate Silver Denies Romney the MA-Senate Seat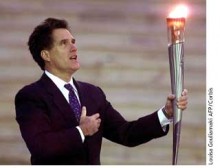 Some idiots have proposed that the smart move for Mitt Romney would be to run for Ted Kennedy's Senate seat, so that Mitts will poised for Presidential victory in 2012.  This would be just like how his experience as Governor of Massachusetts set the stage for his 2008 victory, which never happened, and  was sadly stolen from him by a shitting dog, his not-magical-enough Mormon underpanties, and his utter unlikability. This dude argues that Republicans would like to gain a Senate seat (It's True!), and that it should be an easy win since people don't like Democrats anymore (This may be true in some places, but only a little, and not in Massachusetts.  Plus, even fewer people like Republicans).  Also, Romney's got name recognition on his side. Of course, that last argument forgets that everybody who knows Romney doesn't like him. Everybody knows who Dick Cheney is, too, but I'll bet Massachusetts wouldn't elect that spiteful geezer, either.
Also, after going through all the hard work of switching his positions on every policy, from those acceptable in Massachusetts to those acceptable in the nutbag backwaters of this country, Romney would have to switch back to Massachusetts-friendly statements in the next five months of election, and then finally back again to the Republican platform of supporting nothing before 2011 or so. I think there's a chance that this may strain his credibility, to the point where people start to think he's a hypocrite. Whoops it's 2007 again!
Anyway, Nate Silver uses the mathematics to show that no one likes Romney, given his 54% unfavorables when he left office, and that people are more likely to cross party lines for Governors than for Senators. He also argues, with words, that Romney is actually smart enough to recognize that running for Senator has no upside whatsoever. Finally, the only two Massachusetts dudes since John Quincy Adams to come close to the Presidency got their asses shot. So, bad luck.
Silver then goes on to make the point that no other Republicans will win it, basically because there are zero of them, in the whole state. All ten of Massachusetts representatives are Democrats, as are the Lieutenant Governor, Secretary of State, Attorney General, State Auditor, and pretty much the whole motherfucking State Senate. So basically, suck it*, Republicans!
*And by "it" here, I mean Ted Kennedy's massive dead penis.
Add a Comment
Please
log in
to post a comment