Sociopath of the Day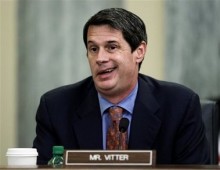 Had to invent a new category for this one:
Sen. David Vitter (R-LA) isn't content to fight attempts at government-run health care here — he wants to destroy it in other countries, too.

The central Louisiana newspaper The Town Talk reports that Vitter was asked at a town hall meeting about the fact that he opposes government health care, but supports re-importing prescription drugs from, as a constituent said, "countries that have socialized medicine." Vitter has campaigned in the past on re-importing drugs from Canada.

"My ultimate goal," Vitter explained, "is to use that (re-importation) to cause that (pricing) system to collapse."
Who does this asshole think he is? Manchu, please send some Mounties to DC to cockpunch this hypocrtical whorefucker.
Add a Comment
Please
log in
to post a comment