Robert Novak (1931-2009)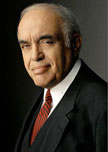 The Prince of Darkess is gone.  ThinkProgress:
Novak will be remembered for outing the identity of undercover CIA agent Valerie Plame Wilson in 2005, as part of the Bush administration's battle to spin the American public on the Iraq war (even though Novak himself was a skeptic of the Iraq war). Last year, Novak said that while he had been thinking "about my life and what I've done right and not done right," he wouldn't have done anything differently. In 2007, he explained what he envisions heaven to look like: "I'm going to a place where there are no blogs."
I predict Tweety will be a fawning, blubbering mess.
Add a Comment
Please
log in
to post a comment