Douchebag of the Day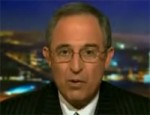 In today's run for the roses Mickey Kaus and Jon Kyl looked strong at the start, but guess who blew them away in the stretch?
[Lanny] Davis' history is as long and consistent as it is sleazy.  He was recently hired by Honduran oligarchs opposed to that country's democratically elected left-wing President and promptly becamethe chief advocate of the military coup which forcibly removed the President from office.  He became an emphatic defender of the Israeli war on Gaza after he was named by the right-wing The Israel Project to be its "Senior Advisor and Spokesperson."  He has been the chief public defender for Joe Lieberman, Jane Harman and the Clintons, all of whom have engaged his paid services.
And believe it or not, Chuck Grassley (a three-time winner) almost made it four today.  Douché!
Add a Comment
Please
log in
to post a comment