Sarah Palin Abducted by Aliens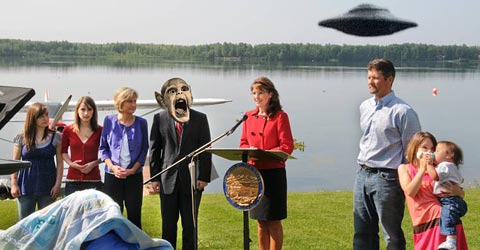 Sarah Palin's resignation speech in Wasilla. Forensic photoanalysis reveals she was already under alien influence.
A third shockingly erudite Facebook post Thursday night has confirmed the ugly truth nobody wants to hear:
Sarah Palin has been abducted by aliens.
The evidence can no longer be denied: 1,233 words of coherent, grammatically correct English, followed by eight footnotes. Only a higher intelligence capable of interstellar travel could render meaning from the world-famous free verse of her previous speeches and Twitter messages. Earlier known attempts to plant a positronic comprehension chip in George W. Bush's brain were clearly beta tests.
This explains Palin's mysterious Lost Week, when she promised to tweet up a storm after her release from the shackles of elected office, yet vanished from the grid following her last official tweet. While we can presume the implantation took only moments, the colon cleansing that preceded it must have been extraordinarily difficult.
Luckily for humankind, this new alien technology has its limitations. While they seem confident to attempt long Facebook posts with it, they have yet to brave the 140-character concision of Twitter itself. Palin's new civilian Twitter account remains suspiciously empty, while William Shatner lies in wait to once again save the universe.
Add a Comment
Please
log in
to post a comment