Priorities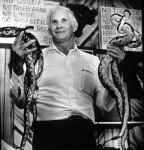 Alabama is well and truly fucked:
BIRMINGHAM, Ala. — It is hardly unusual these days for a government building to forgo a fresh paint job or regular lawn care to cut costs. But last week, the director of the Jefferson County public nursing home was told that the county could no longer afford to bury indigent patients.

Across town at the juvenile detention center, the man in charge was trying to figure out how to feed the 28 children in his custody when the entire cafeteria staff is let go. The tax collector warned local school districts to expect a six-month delay to get their share of property taxes. In family court, administrators plan to delay child support, custody and child abuse cases, leaving some children in the hands of the state indefinitely.
And what does you suppose Alabama's junior senator is doing to help his constituents (other than opposing the stimulus)?
https://www.youtube.com/watch?v=0RkRI3g27Ug
Too stupid to be a federal judge (don't get me started) so instead he gets himself elected to the Senate. Alabama, you have reaped what you sowed. Brilliant!
Add a Comment
Please
log in
to post a comment