Stormy Attacks!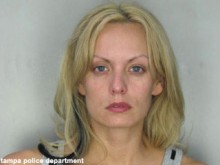 I don't suppose I'll be chastised for putting this picture of Stormy up:
Stormy Daniels, an adult entertainer who's considering running for Senate from Louisiana, was arrested Saturday on a domestic violence charge in Tampa, Fla.

Daniels was charged with battery after she allegedly hit her husband, Michael Mosny, over the head with her hands. According to the police report, she was angry about a bill Mosny hadn't paid and about the way his father had done the laundry. She broke a flower pot and a few glass candle holders, threw their wedding album on the floor and allegedly hit her husband while struggling to get the car keys from him. She denied hitting him intentionally.

Neither Mosny nor Daniels, whose real name is Stephanie Clifford, were injured. Daniels was held overnight and released on $1,000 bond.
Still, it's not as if she paid anyone for sex.
Add a Comment
Please
log in
to post a comment