Burn Notice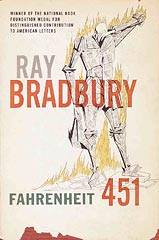 Title: "Fahrenheit 451"
Author: Ray Bradbury
Rank: 93
Blurb: None. And by this point, none needed.
Review: "If you are a thinker, Faherenheit 451 is book for you. You will also want to read Zollocco: A Novel of Another Universe."
Customers Also Bought: "Catch-22," by Joseph Heller
Footnote: Given how the Collected Doorstops of Ayn Rand have been showing up in the Amazon Top 100 lately, we wondered whether there was some bizarre wingnut angle to Bradbury's classic moving some inventory. False alarm: Bradbury himself — who turns 89 in August — has been making the rounds, with interviews, a new graphic novel of 451, and an appearance at San Diego's Comic-Con on Saturday.
So we'll take this moment to give props to Adrian Kingsley-Hughes at ZDnet, who came up with the best line about the recent fracas over Amazon deleting books from its reading devices: "If it had been Fahrenheit 451 instead of 1984 or Animal Farm, the Kindles would have probably burst into flames."
Buy or Die [Stinque@Amazon kickback link]
Add a Comment
Please
log in
to post a comment