More on C Street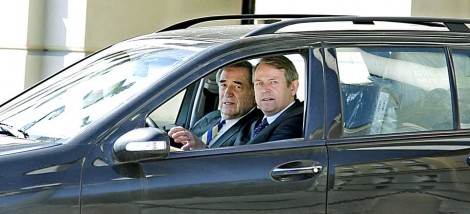 I'm guessing that Doug Coe is the passenger in this photo, but my Norwegian sucks.
Doug Coe, the group's spiritual leader, once preached that the willingness to behead one's own mother was a "covenant" tantamount to what "Jesus said." The organization "Youth with a Mission" owns the C Street boarding house, which is registered tax-exempt as a church, advocates seizing the "mountain of government" as part of an evangelical crusade to advance the "kingdom of God." Coe, who holds misogynist beliefs, once counseled a lawmaker that his wife — who complained of not being sexually satisfied — might be possessed by demons.
Speaking with Maddow about the influence of the Fellowship, author Jeff Sharlet noted that the complex operates as a "fundamentalist frat house" where "if you're part of God's chosen…morality, ethics, these things don't apply to them." He also noted Steve Largent, a former Oklahoma congressman and former resident of the C Street house, now president of a telecom trade group, arranged lobbyist-funded trips for other members in the group, including both Pickering and Ensign. Sharlet questioned the lawmaker-to-lobbyist "revolving door" that "seems to be facilitated by the family."
Just some good 'ol boys, never meanin' no harm.
Add a Comment
Please
log in
to post a comment