Abandon Ship!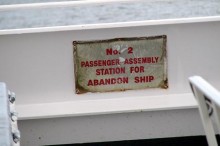 Boy, the Corner is a treasure trove today.  I noted Rich Lowry's assessment in a thread.  But it's not just him.  The vultures are well and truly out.  Lashing out for the disastrous veep run a bit late, I suppose.
Dana Perino (God help me, I've missed her):
If Sarah Palin was trying to make news today, she had odd timing. At a time when Farah Fawcett and Ed McMahon's deaths paled — almost as much as another recently departed celebrity's skin — into insignificance, perhaps she hoped her resignation on a holiday Friday would pass unnoticed. But that isn't really her style, which makes today's abrupt announcement seem more like a whim — a characteristic her detractors worried about during the campaign. 
But… a minority view from (hoo boy) Bill Kristol:
All in all, it's going to be a high-wire act. The odds are against her pulling it off. But I wouldn't bet against it.
Wait — Bill thinks this possibly is a good move?  Well, that seals it.  Nice knowing ya, Sarah Plain and Dumb.
More Corner goodness, post-jump.
No way around it. She has just labeled herself a "quitter." Someone who doesn't finish what she started. What in the world is wrong with Republican governors? One self-absorbed politician after the next. Governors: "It's not all about you!"
The title of that last Geraghty post is "Steve Schmidt wins." I note that only because a smart, pro-life, conservative said to me earlier today after listening to the Palin statement: "this statement is bizarre — is she trying to prove Steve Schmidt right or something?!"
Add a Comment
Please
log in
to post a comment