That's Amore!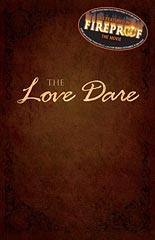 Title: "The Love Dare"
Authors: Stephen Kendrick and Alex Kendrick
Rank: 42
Blurb: "Too many marriages end when someone says 'I've fallen out of love with you' or 'I don't love you anymore.' The Love Dare discusses how these statements reveal a lack of understanding about the fundamental nature of true love."
Review: "Now the book itself also consists of a 40-day list of dares. For each day, there's about a page and a half or so of advice, followed by a specific dare and some space for you to write down your personal reflections. Dares range from things such as practicing patience to writing out a renewal of your vows."
Customers Also Bought: "Crazy Love: Overwhelmed by a Relentless God," by Francis Chan
Footnote: We're incorrigible.
Buy or Die [Stinque@Amazon kickback link]
Add a Comment
Please
log in
to post a comment